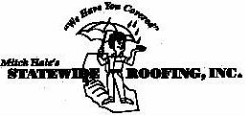 Mitch Hale's Statewide Roofing
License:

C39-668735

Main Services:

Full service residential Roofing Contractor

Years In Business:

Over 20 Years

Awards:

Top Performer last 4 years ,Top Producer from Monier Life Tile

Company Overview:

Our company, Mitch Hale's Statewide Roofing, has been servicing the roofing needs of Ventura County since 1993. Customer satisfaction of a well-installed roof and gutter system is the driving force of our business. If you're not happy, we'll do it again-our work is guaranteed. All our technicians are fully insured to protect you and your home. Using the best materials available is what gives Mitch Hale's Statewide Roofing the leading edge in the Ventura County roofing community. We are a full service residential roofing contractor specializing in New Roofs, Re-Roofing and any other roofing needs you may have. Some of our services include: Consultations, Emergency Repairs, Inspections, Leak Detection. We use light weight tile and all composition material. WE'VE GOT YOU COVERED! Call Mitch Hale's Statewide Roofing for your Free Estimate today!