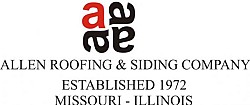 Allen Roofing and Siding
License:

104-010598

Main Services:

Roofing, Siding, Gutters, Windows, and Doors -- Ceder Shake, Slate, and Tile roofs

Years In Business:

41

Company Overview:

At Allen Roofing, we don't look at a roof as "just a roof." After all, your roof protects you, your family and your possessions from the elements – a crucial component in making your home the warm, comfortable place it is. Additionally, a roof is a key part of the overall appearance of your home. Your roof's color and style can make a tremendous difference in how your house looks, not to mention its market value. And, lastly, your roof should be worry-free. After all, you've got other things to worry about! That's why we built Allen Roofing from the customer-out. When we started this company in 1972, we knew we had to offer superior roofing at a fair price—and then back it with the best service possible. And if you ask our customers, we're confident they would agree… and then some! So when it's time for you to consider a new roof or roof repair, be sure to call us for a beautiful, affordable, worry-free solution. Call today for a free quote!