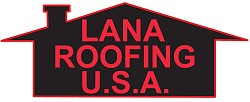 Lana Roofing USA
Years In Business:

2

Company Overview:

:
Experienced Roof Contractors & Licensed Insurance Adjusters servicing South Texas Roofing Needs!!

Lana Roofing USA is a San Antonio based company with some of the most experienced roof installers and professional sales staff to serve you, always going above and beyond our clients expectations. We build the highest quality roofs, with excellent workmanship and a dedication to making your home or workplaces roof the best it can be. Making it energy efficient, eye appealing, durable and always making sure everything is done up to all the building codes specifications. We pride ourselves in providing first class service, superlative construction installation, always using the highest quality building materials in the industry. It's only here at Lana Roofing USA where you will find dependable sales associates, licensed insurance adjusters, affordable repairs, custom construction, professional and efficient completion times and all with our 10 year warranty and maintenance program.

We are a team of professionals that are composed of well experienced roof installers, licensed insurance adjusters and other experts in the industry. Our insurance adjusters use the same cutting-edge software and technology that the big insurance companies use to come up with their comprehensive report. This helps with your insurance claim to make sure you given everything you are owed to make sure the entire job can be done, correctly the first time and gives a course of action to maximize your results and that most something that most roofing companies just don't offer. It's only at Lana Roofing USA that you will experience a total maintenance and detailed assessment of your roof, which in the end, will give you the most detailed feedback, steps to take and explanations of the things that will take place, making sure our clients are never left in the dark on what is happening with their claim or the work that is going to be done. All over San Antonio and South Texas our clients are happy to talk about how Lana Roofing helped them get the most, for the smallest amount out-of-pocket expense. We deliver maximum customer service to insurance claims clients, home owners and other clients looking for the most effective solutions for all of their roofing needs. Also, our preventative maintenance programs can protect your investment and give you peace of mind for the next 10 years.

Being the top choice roofing contractors, we strive to stands above the rest, making Lana Roofing an apex name in the industry. We at Lana Roofing protect your investments and save you money at the same time. Our regular inspection program in San Antonio and surrounding areas will find any potential problems and solve them before they cause significant unseen damages. We have expert people dedicated to exceed all of your expectation. This way we don't just save you money, we also save time, energy and frustration.

Our installers have over 25 years of experience in residential and commercial roofing systems, and our sales staff have over 30 years of combined insurance claims knowledge and construction experience.

Lana Roofing and Construction has built a great reputation in San Antonio and throughout the South Texas area as a premier roofing company. We strive to maintain our legacy by always providing our clients with the best customer service, installation construction and reliability that is paramount to the rest.

Below are some of the services you will get from Lana Roofing USA:

Our specialties include:

• Quaity Construction
• Professional Estimates
• Affordable Repairs
• Complete Roof Replacement or partial
• Building Code Installation
• Preventative Maintenance Program
• Complete Waterproofing
• Energy Savings
• and all your Roofing Solutions

We are experts with the following all types of roofing systems, including:

• Shingles
• Metal
• Modified
• Elastomeric Roofing
• Tile and Slate
• Thermoplastic Roofing
• And many more!!