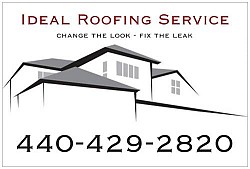 Ideal Roofing Service
Main Services:

Roofing, Chimneys, Gutters

Years In Business:

8

Company Overview:

Here at Ideal Roofing Service, we are a family owned and operated business that has completed a variety of roofing installation projects for the local residents of Cleveland, Ohio. We understand that the customer's satisfaction is what determines our success. That is why we believe in taking a hands-on approach to every project and maintaining an open line of communication with the customer. While interacting with our company, you will notice that we are particularly focused on the principles of quality workmanship, timely completion, competitive pricing, and integrity in all business dealings. Thank you for your interest in our company.